Calendars


Calendars are easy and fun to create! You can add quotes and images throughout your calendar. Remind your friends and family of vacations, parties, and those special moments you share. Choose from dozens of different backgrounds, masks, and frames. You may start your calendar on any month you wish. You can just make one and order many.
What great gift that lasts all year round for you and those who love you! Keep your treasured photo moments in a calendar that will be with you 365 days.
This Desktop calendar prints on 100# Cover Silk paper, it is bound with wire-o, and has a base for extra support.
Size: 4″ x 10″
Price for a 12-month calendar starts at:
$16.95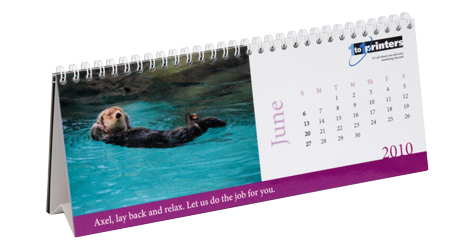 Design your jewel case calendar totally online with our professional templates. It is a great gift for yourself or anyone because Jewel-case Calendars stay out of the way, but give a nice touch to any desk. Each "month" is printed on 100# Cover Silk Paper and comes in a jewel case that works as the stand.
Size: 5″ x 5″
Pricing:
$9.95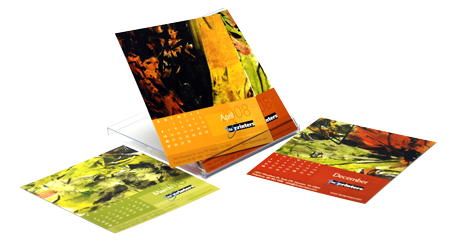 Wall Calendars

– So Cool and Convenient!

Enjoy your beautiful photos on a big, bold new way: your wall calendar. Choose from two different sizes.
Our Classic Wall Calendar comes 8.5″ x 11″ and it is bound with plastic coil.
Our Over-sized Wall Calendars print 11″x16″ and are wire-o bound for durability.
Prices start at:
$
24.95